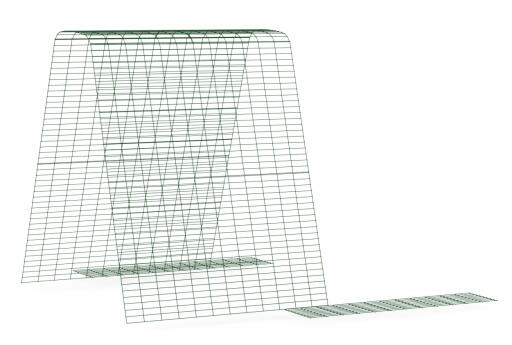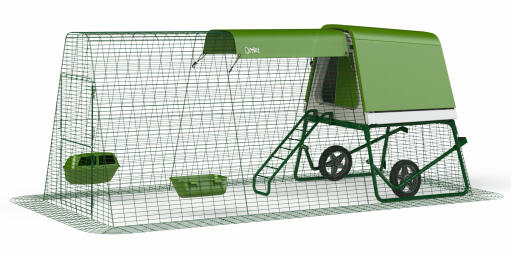 Checking stock in our warehouse...
$160.00
Give your chickens some eggstra room with a 1m Eglu Go UP Run Extension. Use with your existing Eglu Go UP, to turn your 2m run into a 3m run. It is made of the same fox-resistant steel weldmesh and it has anti-tunnel skirting. Please note, this is suitable for use with the Eglu Go UP Run, not the standard Eglu Go Run.
Patent Pending. Design Registered.
Eglu Go UP 1m Run Extension
All that I hoped it would be. Chickens seem happy, easy to clean and looks good.
Review for:
Eglu Go UP 1m Run Extension
This reviewer has 2-4 Langshan, Barnerveld pets
Even though its quite expensive its well worth the dollars, i love my eglu up, the chickens love it, too. i can sleep peacfully knowing they arent going to get attacked during the night..I got the wheels and its easy to move even with the 3mtere run attached.And best of all so easy to clean, and hopefully no mites.
Review for:
Eglu Go UP 1m Run Extension
This reviewer has 2-4 barnvelder,wyndotte, pets
Glad I got the extension ????
The extension give my little coop set up that extra wiggle room I wanted for my new chickens ????
Review for:
Eglu Go UP 1m Run Extension
The extension is fantastic for our 2 hens.
After purchasing the Eglu go up with wheels and being so happy with it, we decided to give the girls more room when enclosed. The extension was easy to assemble and attach. We are so happy with it for a variety of reasons; As the hens begin to lay, we can keep them in the run until they lay around mid morning in the nest, without hunting for eggs in the garden or worring about them being cramped. The extension allows more time between moving the Eglu as the droppings are not concentrated in one area. We find the hens are more relaxed when we must leave the in the run all day, especially as winter approaches and foxes become more hungry. Finally the extension adds a little more weight to the setup and stability is increased, even in 50km wind gusts, as we had a night ago. Thank you Omlet for great service, Geoff and Helen
Review for:
Eglu Go UP 1m Run Extension
purchased eglu go up, 1m run extension. cat run 3.1m x 2.05 x 4m
Love all we have purchased, they do the job keeping cats happy and safe outdoors. Chickens have the run of the farm during the day and then safely locked up if we are out or people come with their dogs to visit, etc. We also had constant worry with foxes and were not convinced their old house was fox proof. Their new house and run has us sleeping easy now, no more listening for break in's at night. Now recommend Omlet products to family and friends.
Review for:
Eglu Go UP 1m Run Extension
Read more reviews