Cat Beds
Omlet cat beds are carefully curated and thoughtfully engineered with elevated elegance and custom comfort in mind. Explore our exclusive line of easy-to-clean, machine washable cat beds - created with high performance memory foam mattresses and luxuriously soft cushions for the ultimate in cat comfort.
---
Donut Cat Beds
Super squishy faux fur cat bed with designer feet
From A$ 47.95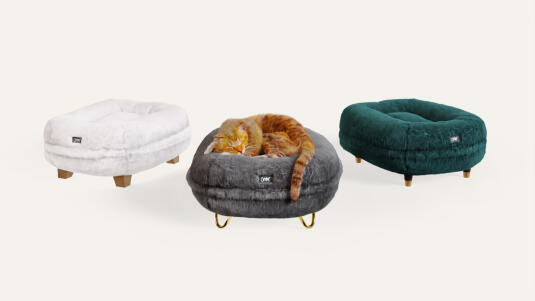 Bolster Cat Beds
Memory foam cat bed for support and style
From A$126.90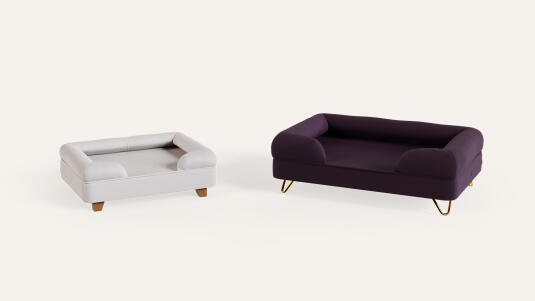 Find the best cat bed for your feline friend
Whether you have a kitten or a full grown cat, Omlet has a cat bed to fit every size feline. Give your cat the cushioned support of a
Bolster Cat Bed
or envelope them with the snuggly comfort of the
Maya Donut
. Available in a variety of colors and styles, Omlet cat beds are sure to enhance your cat's sleep and your home decor.
3 reasons to buy a comfy pet bed from Omlet
At Omlet, thinking outside the box is our passion. With your cat's comfort as our top priority, we challenged the norm and imagined the unthinkable to create pet beds that are as comfortable as they look. Every uniquely designed cat bed is comprised of these three essential benefits:
Durability: We asked if a cat bed could withstand the natural behaviors of cat claws and scratching and then created each bed to do just that. Built to stand the test of time and your cat's paws.
High quality: Luxury isn't just for the rich and famous. We believe cats should be treated like royalty everytime they take a snooze. So we designed our beds with high quality materials that make both your cat and your interior feel good.
Custom comfort: As the connoisseurs of sleep, we know that cats can sniff out comfort from a mile away. That's why we purposefully included supportive memory foam mattresses in every design. The Omlet cat beds will be the only place your cat will want to sleep.
Create your cat's favorite space
Cats are creatures of comfort. We think their beds should be too. Whether you have a Benga or a Balinese, the Omlet cat beds are sure to provide the next level napping experience your cat desires. We didn't invent the cat bed - we just perfected it. With unparalleled comfort and the supportive luxury they deserve, cats feel at home on an Omlet cat bed. Mix and match any cat bed with a
super soft cat blanket
to complete the perfect sleep spot for your furry friend.
At Omlet, we know cats
At Omlet, we are one part ideators, several parts creators and all parts designers. All so you can be 100% the best pet parent your furry friend deserves. We craft our beds from a cat's point of view while also delivering a product that makes your life easier. On our mission to bring people and pets closer together we create products that treat them the way they should be treated - like family.