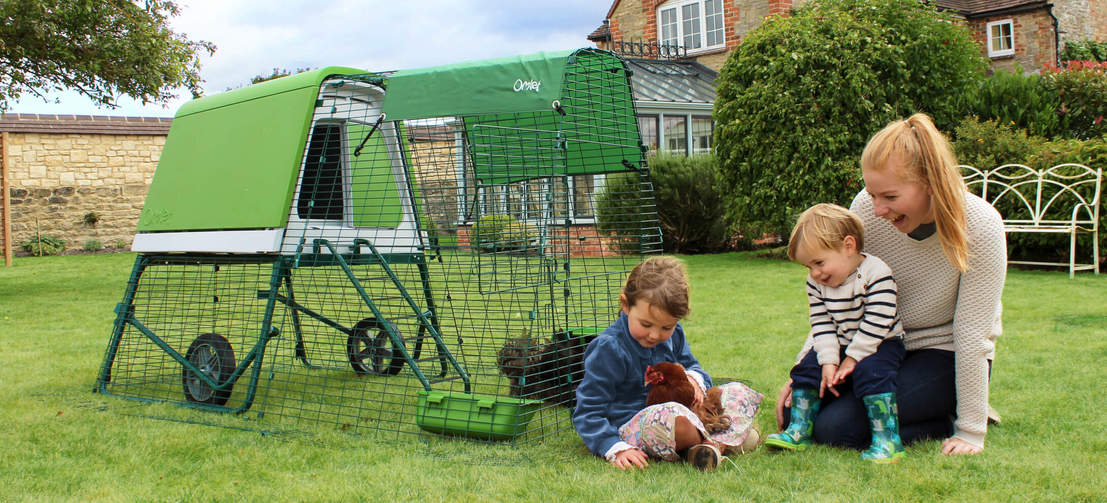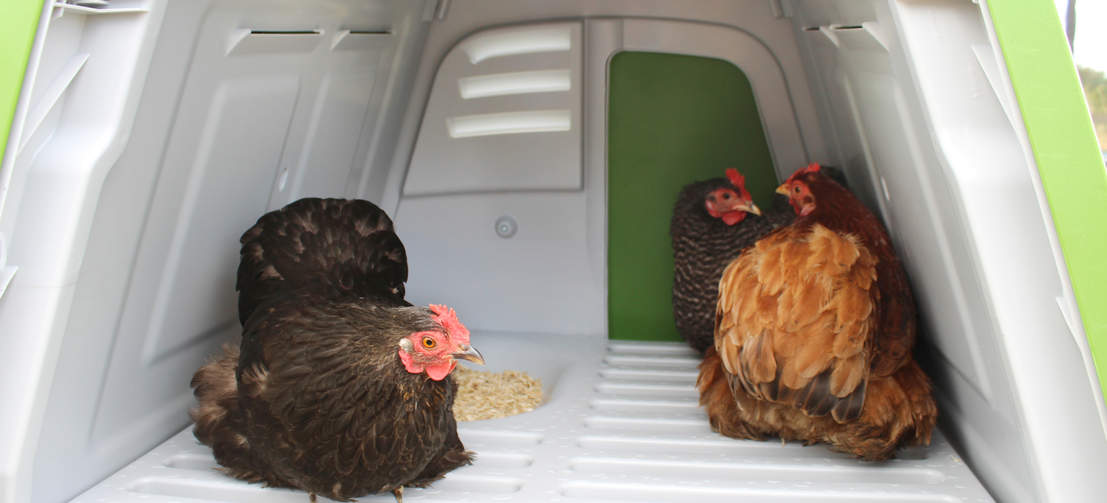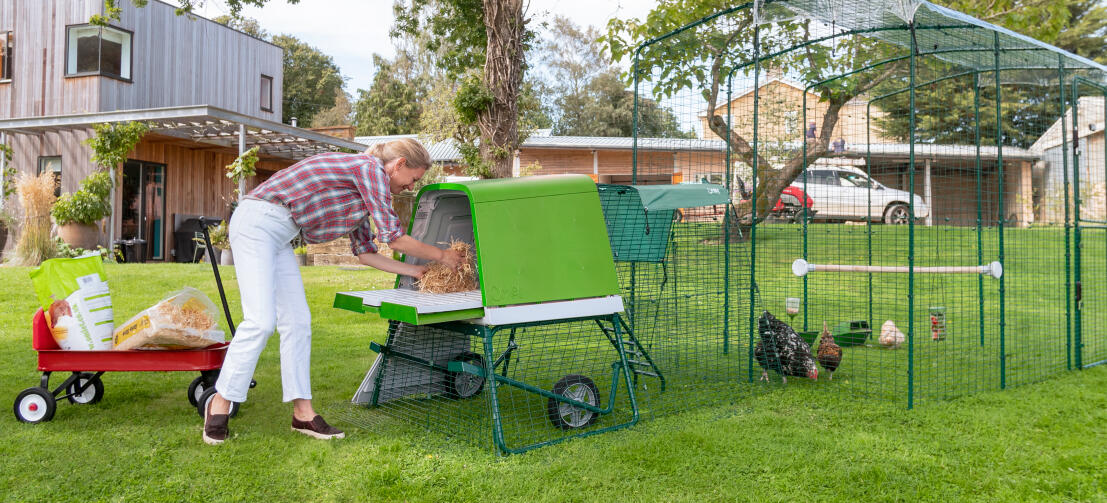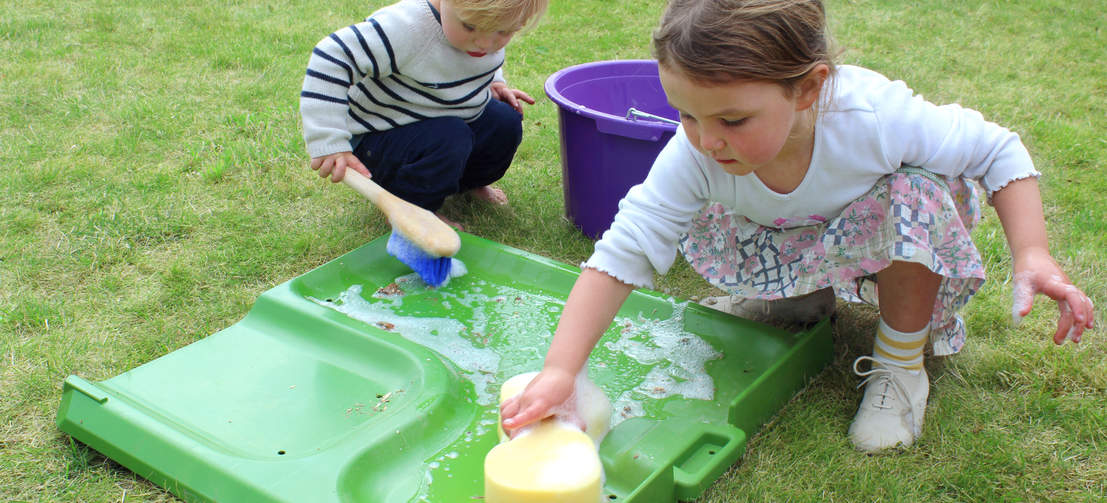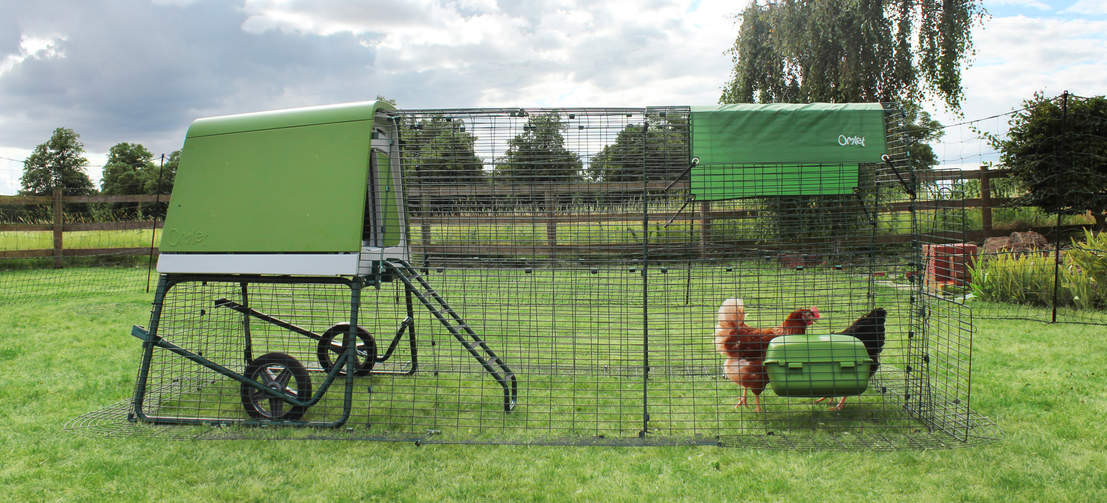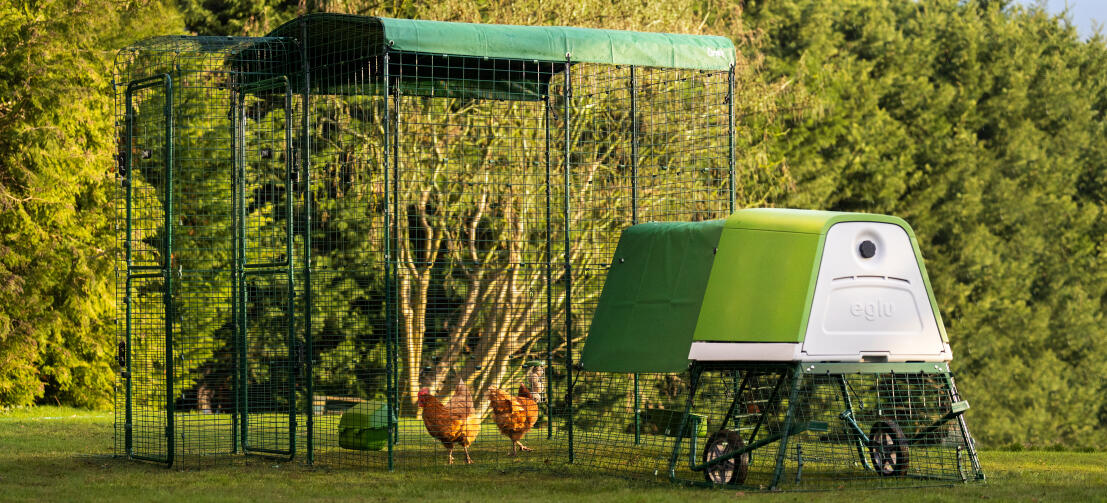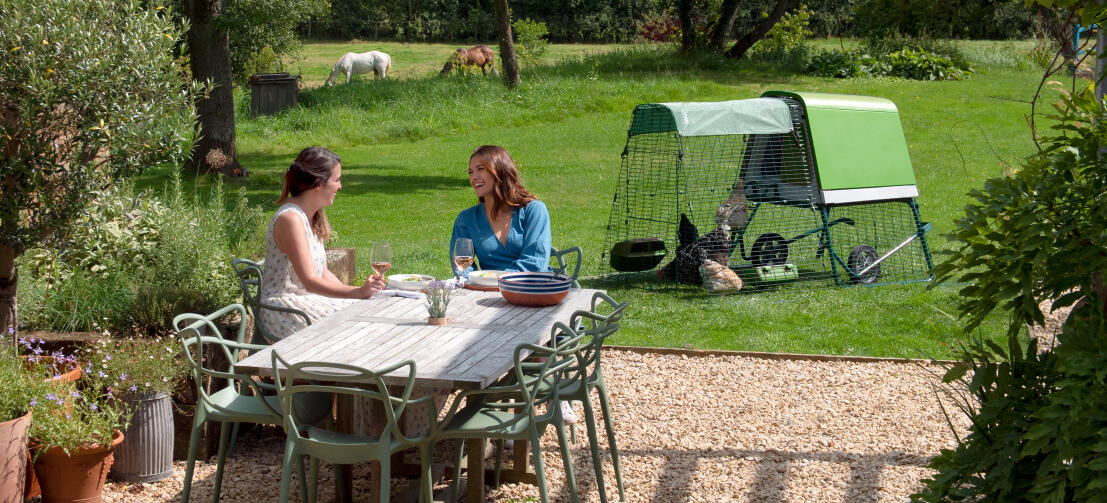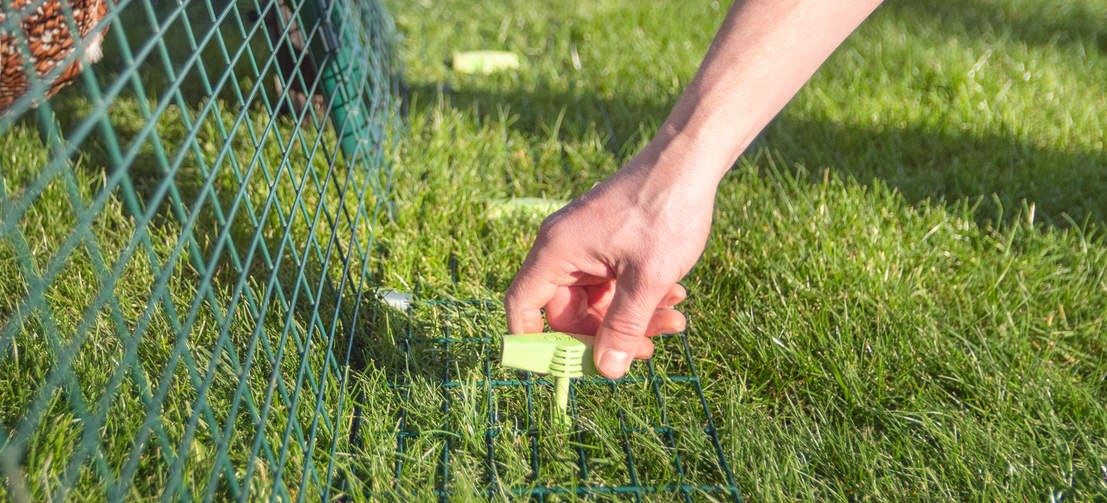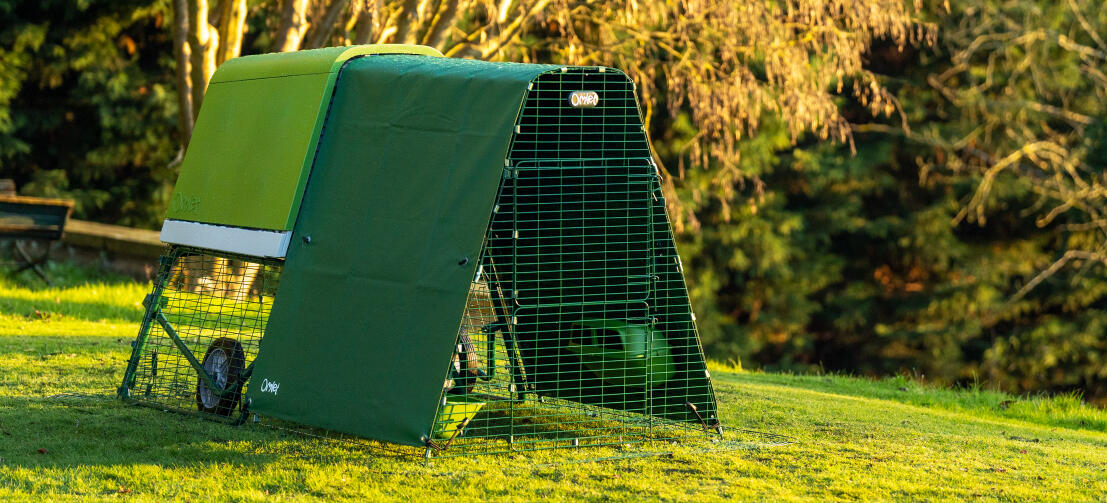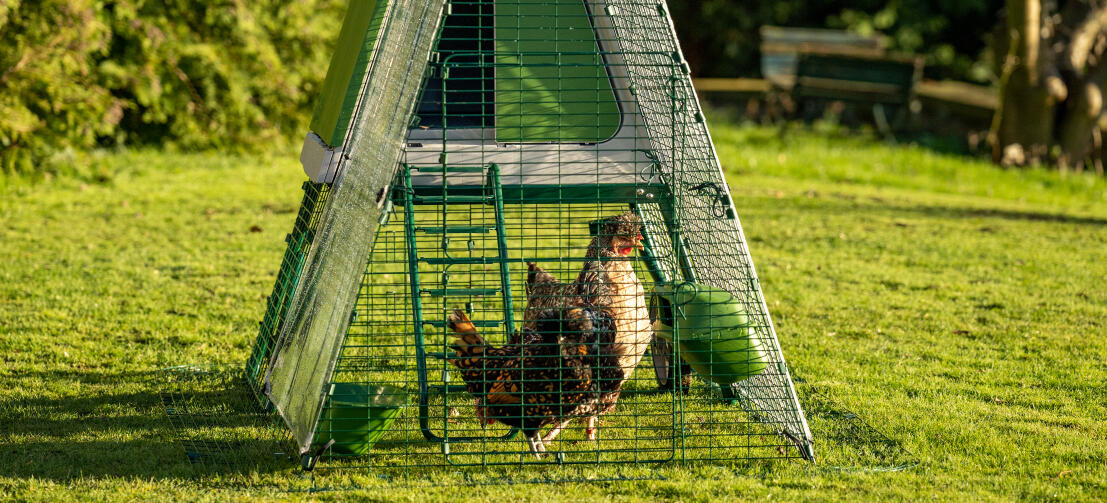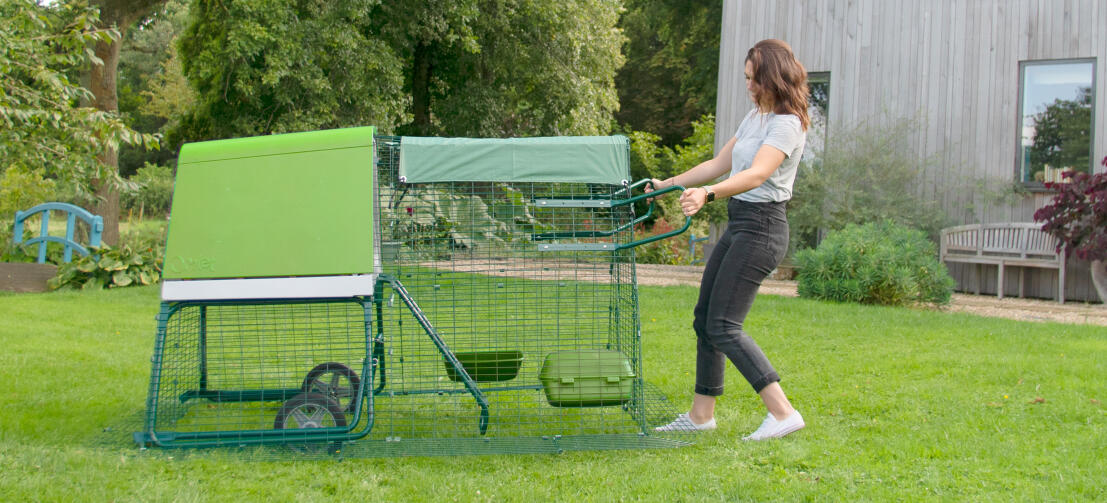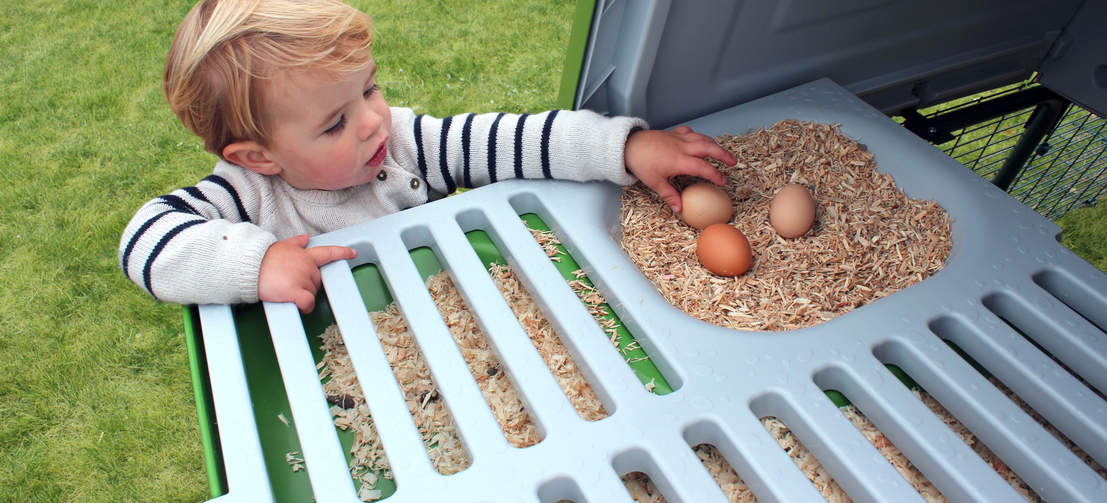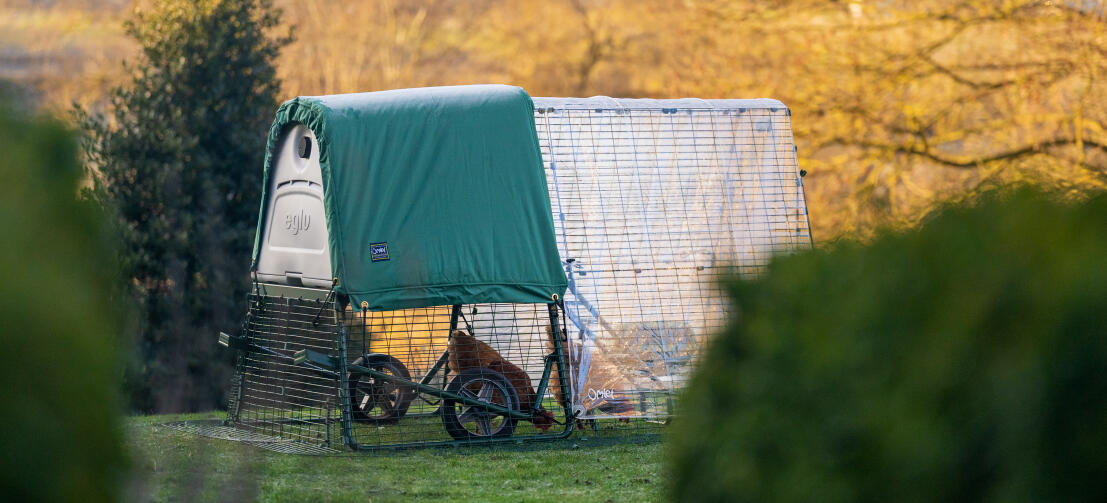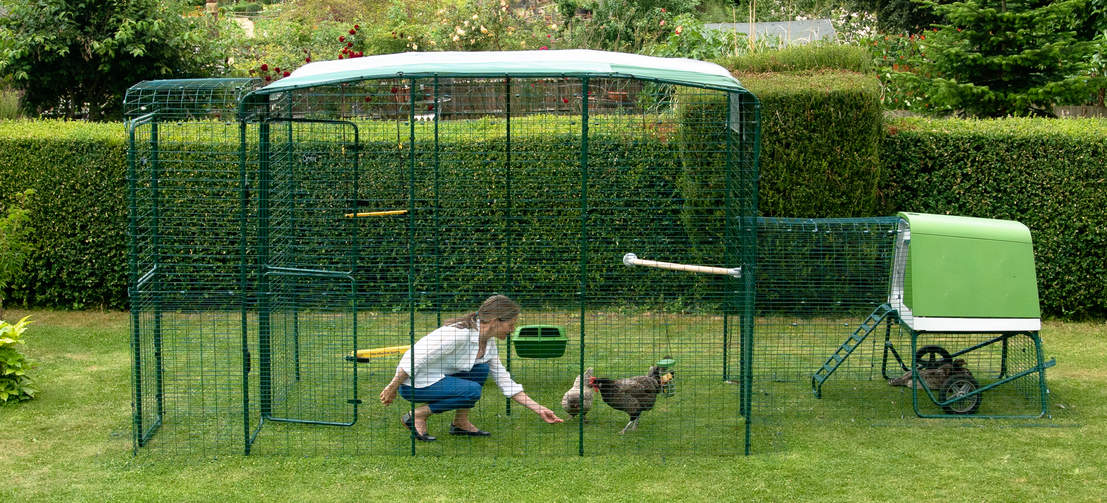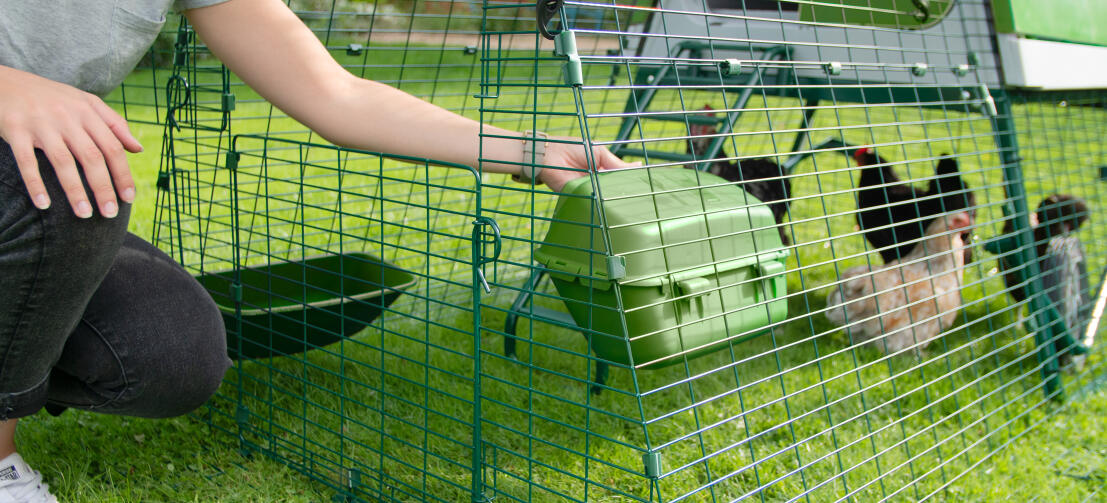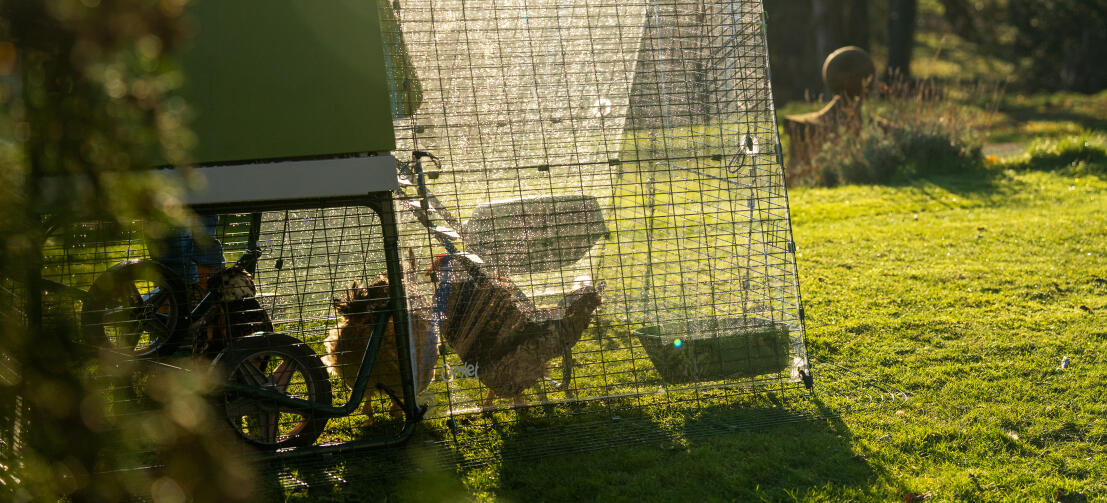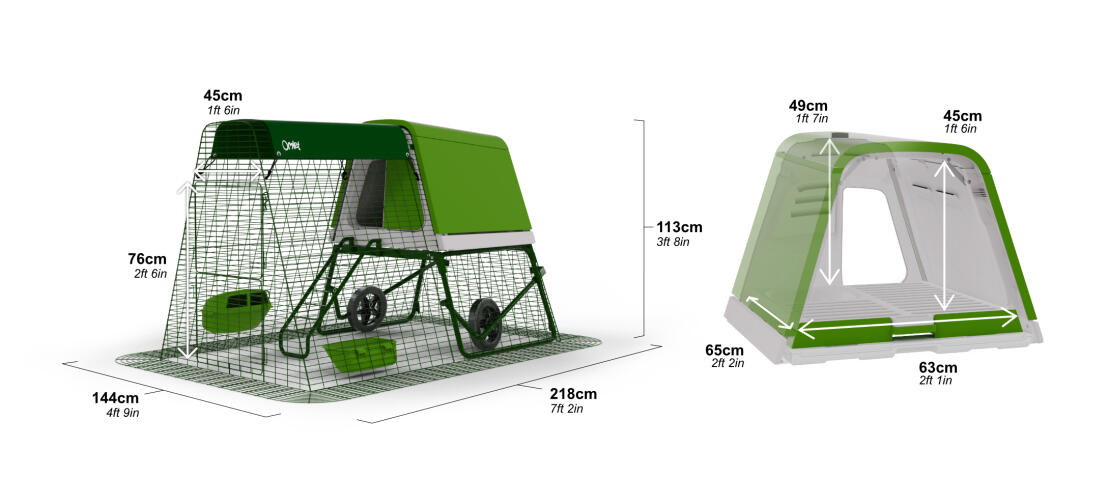 Eglu Go UP - Portable Chicken Coop
The Eglu Go UP is the ultimate portable hen house. Exceptionally easy to clean with slide out roosting bars, dropping tray and waterproof, wipe-clean surfaces.
Design your coop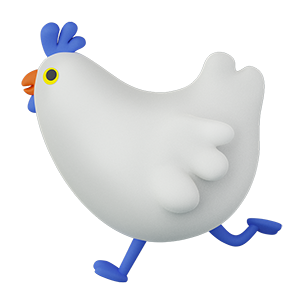 Frequently Asked Questions
Can the Autodoor be fitted to the Go UP?
The Omlet Automatic Chicken Coop Door can be fitted to the Eglu run, however, it cannot be attached to the Eglu Go UP house. We are always developing new products and have shared the interest for a Go UP Autodoor with our design team.
What size run should I get?
The size of run you need depends on how many chickens you have, what chickens you have (breed/size/personality), and how much they are allowed to roam free outside the run. Always aim to give your chickens as much space as you can, either by letting them free range in the garden or backyard or by getting a bigger Walk in run attached to the run of your coop. If you're not able to extend further, try moving the coop and run as often as possible or changing the soil or wood chips regularly. If you're having difficulty deciding what run size to get, feel free to contact our customer service team who will be happy to help!
How far can I extend the run?
The run can technically be extended however long you want with the
1m chicken run extensions
. However, when extending over 3 meters, we would recommend taking extra precautions to ensure stability and security. This might include using
screw pegs
to secure the run, and adding
perches
to stabilise the mesh. Instead of extending further, you might want to consider connecting the coop to a
Walk in Chicken Run
.
Does the Eglu Go UP have perches?
While the Eglu Go UP doesn't have traditional wooden perches, has specially designed roosting bars with a structured surface and rounded corners where the chickens will sleep comfortably at night. Roosting bars allow the chickens to grip onto something while they sleep, which makes them feel safe and comfortable. As they climb up into the Go UP to roost, they also get the reinforced feeling of being off the ground. Although they don't look like traditional wooden perches, roosting bars are great for larger breeds who find it tricky to jump up to a raised perch, or recently rescued hens who don't have the strength to flap, and the shape of the bars makes sure most of the droppings fall straight onto the slide out, easy clean tray underneath.
What is the return policy and warranty for the Eglu Chicken Coops?
If for any reason you're not happy with your purchase you can return it to us for a full refund within 180 days. You will need to dismantle and pack up the coop, so it's a good idea to keep the original boxes. For your peace of mind Omlet also gives you a 2 year warranty, so please contact us if anything goes wrong and we'll do our best to fix it straight away. Please note the warranty does not cover natural weather, animal and pest damage.
Is the Eglu predator proof?
While the strong materials and thought out design makes it extremely hard for predators to get to your pets, no coop is 100% predator proof. Check the coop and run regularly to make sure all features are working as intended, including latches, doors and run clips.
If you live in an area with lots of predators, you might want to consider adding additional protection to the run. Keep on top of egg collecting and control rodents to minimise the risk of attracting snakes and lizards. If you've seen possums or other particularly dexterous animals around your yard, it's also a good idea to find a way to secure doors and latches with extra locks to stop them getting to your flock.
Do chickens find it hard to climb the ladder?
Although it might take chickens a few days to get the hang of the ladder, the new and improved ladder grips make sure all chickens will soon have no trouble walking up and down it. If your chickens are having difficulties, or show no interest in using the ladder, place treats on the rungs to encourage them up into the coop. The durable all weather grips simply clip on to the rungs of the Eglu Go UP ladder to provide a large non-slip surface. The grips are especially useful for older, less agile chickens or for young hens who are perhaps using the ladder for the first time. The Eglu Ladder Grips have been a standard feature of the Eglu Go UP portable hen house since October 2019 and are fully compatible with all Eglu Go UP coops bought before this date. New and improved ladder grips have been available since March 2021.
Can I keep my run outside all year round?
The metal chicken runs are designed to be used outdoors for years to come. However, we recommend that you check the run regularly for signs of corrosion, especially if you live somewhere with extreme weather conditions or close to the sea. Corrosion will occur if the coating has been scratched or scraped for example. If you do see some, remove any loose rust and touch up with a weather resistant paint. If you have covers on your run and experience heavy snowfall it's advised you clear the snow off the roof to avoid the panels being damaged from the weight.
Do I need the handles to move my Go UP?
No, the Eglu Go UP is a fully mobile hen coop with wheels, without the handles. However, if you have a run that is longer than 3 metres, or if you intend to move it by yourself most of the time, the handles will make it noticeably easier.
Do I need an extreme temperature blanket for my Eglu Go UP?
Thanks to the twin wall insulation system, the Eglu Go UP will keep your chickens nice and warm in winter without any additional covers. The Extreme Weather Protection does, however, offer extra protection and will keep the insulated chicken coop warmer for longer, so if you live somewhere very cold it's a great addition to your setup.
Can I place my Eglu Go UP on uneven ground?
Yes, that won't be a problem. If you want to keep your chicken coop on a slope or in a particularly bumpy area of your garden, we would recommend fastening the hen house and run with the Omlet Screw Pegs. These are super easy to just twist into the lawn, thus removing any gaps under the skirt where chickens could possibly escape or predators could get in.
Is the Eglu Go UP suitable for chicks?
The Eglu Go UP house is suitable for chicks over the age of 12 weeks. We recommend you remove the roosting bars from inside the coop until the chicks are big enough to perch and walk across the bars safely. The Eglu run is not suitable for chicks under the age of 12 weeks without supervision due to risk of escape and predators. Chicks may struggle with the ladder to begin with while they are small, so you may wish to lift them in and out of the coop yourself, or convert the ladder to a ramp. You should use plenty of bedding in the coop to keep the chicks warm, and change the bedding every few days.
How long will it take me to build the Eglu Go UP?
The house will take a couple of hours to assemble, and the run an additional hour or so, depending on which size run you have chosen. Your Eglu Go UP comes with a comprehensive instruction manual that takes you through the assembly process, and you can also watch this step-by-step How to Build video.
Can I use the Go UP for my cats/rabbits?
We have not tested the Go UP with cats or rabbits so cannot recommend how safe it will be for these pets. Certain features, such as the ladder for rabbits, won't be suitable.
Do I need to add hay on the roosting bars or droppings tray?
You don't need to add hay to the roosting bars or droppings tray as they are super easy to wash clean without. However, you should place bedding in the nest box.
How warm is it inside the Go UP in winter?
The Eglu Go UP has twin wall insulaton which works in a similar way to a flask. The Go UP retains the heat produced by your chickens to keep them warm in winter. How warm it will be inside, depends on how many chickens you have in the coop, and whether or not you have left the door open.
What is the Wheel Arm Track Guard?
The Wheel Arm Track Guard fits in the space where the wheel arm moves across to lock when you lift the coop to move it. The wheel arm goes through the comb-like guard, but it prevents any overly curious chickens to put their head through this space. The Wheel Arm Track Guard is included in all Eglu Cube and Eglu Go UP run boxes as standard from July 2021, and if you have an older coop you can buy it
here
.
Eglu Go UP - Portable Chicken Coop
The Eglu run handles make the run easy to move with only one person.
Review for:
Eglu Run Handles
This reviewer has 8-10 Bantam hens pets
Arrived really well packaged with clear instructions, so sturdy, everything feels so tough and durable, love every design feature , ideal as our girls roam free mostly so perfect for bedtime, so easy collecting eggs and best of all amazingly easy to clean.
Review for:
Eglu Go UP Chicken Coop with 2m Run Package - Purple
This reviewer has 2-4 pets
Wish I'd bought these when I bought my eglu cube & run, makes moving the tractor super easy !
Review for:
Eglu Run Handles
This reviewer has 2-4 Buff Orpington, ISA pets
Easy to clean. Fairy easy to assemble. One week on, no complaints. Excels in the tropical climate that i'm in. Chickens love it!
Review for:
Eglu Go UP Chicken Coop with 2m Run and Wheels Package - Leaf Green
This reviewer has 2-4 Rhode Island Reds pets
These handle make moving the chicken coop so very easy
Review for:
Eglu Run Handles
This reviewer has 2-4 Roosters pets
Read more reviews