Small Dog Beds
A small dog bed from Omlet gives your pint size pup the opportunity to discover next level napping. Curated with your dog's comfort and size in mind, Omlet small dog beds are a customised sleep solution uniquely made for your dog's specific size needs. Explore the variety of styles and options available to make your small dog's Omlet bed the last bed you'll ever need to buy.
---
Topology Small Dog Beds
Luxury dog bed with zip on toppers for hygiene and ease
From A$179.90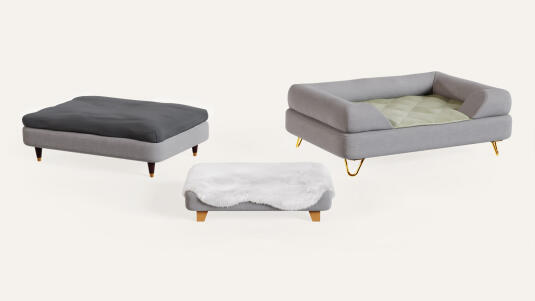 Bolster Small Dog Beds
Memory foam dog bed in a range of vibrant colours
From A$130.00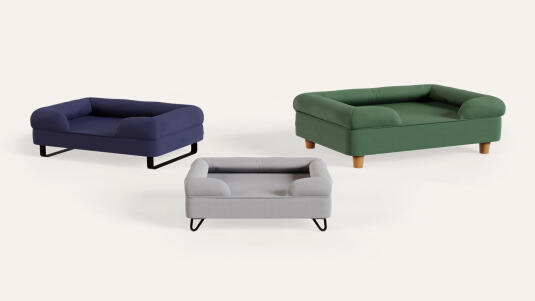 Small dogs deserve good sleep
Small dogs deserve high-quality, long-lasting
dog beds
just as much as every other dog.That's why we designed our small dog beds as specialised sleep solutions with low profile entry and cushion comfort so your small pup can get big sleep. With a range of vibrant colors, super soft fabrics, signature designs and matching accessories, your small dog's sleep and style will be heightened.
3 reasons you need an Omlet small dog bed
At Omlet, we question, we imagine, we dare - and then we create. Our comfy dog beds are carefully engineered to provide these three essential and proprietary benefits for your dog:
Selection of styles: Not all small dogs like all small beds, so we made options for you to choose which one suits your pint-sized pup the best. Give extra support with a Bolster dog bed or pick a raised dog bed for supreme airflow.
Easy to clean: No matter the size, all dog beds need to be easy to clean. That's why we made our covers simple to remove and machine washable so your dog can have that fresh sheet feeling all the time.
Comfortable: Our small dog beds look good and are comfortable, too - just ask our pets! Engineered with high performance mattresses and supportive cushioning, every Omlet dog bed gives your dog the comfort they deserve.
Custom sleep solutions for small canine comfort
Designing dreamy sleep solutions for your dog doesn't stop with beds. Extend your canine's comfort by giving them a cosy home within a home with a furniture style
dog crate
. Top off their daydreams with a soft and
snuggly dog blanket
to complete their sleep oasis. Omlet has designed the perfect sleep solutions for every dog of every age.
Pet connection through custom size products
At Omlet, we believe the bond you have with your dog is a precious luxury. And the bed they sleep on should be that, too. There is no greater show of love for your canine companion than with products that will comfort them for a lifetime. By endlessly asking what makes our pets happier and healthier, we are able to create solutions that deliver.