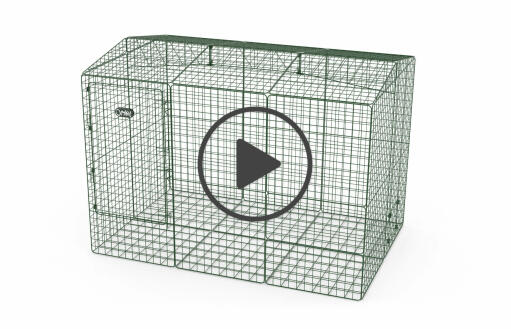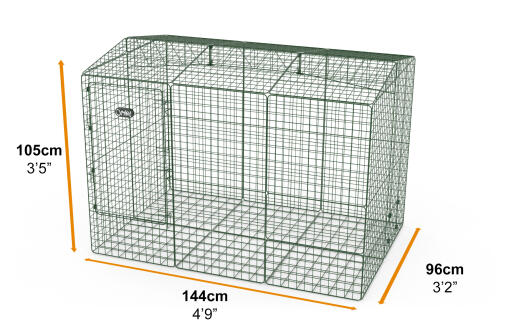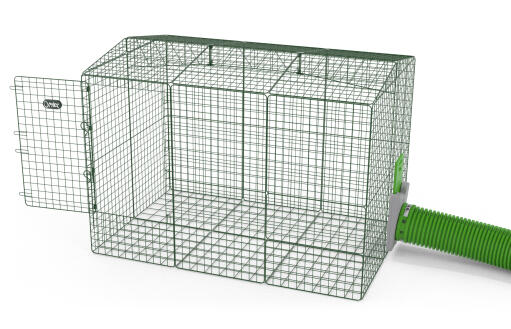 Zippi Rabbit Run with Roof and Underfloor Mesh - Double Height
Read 3 Reviews
Checking stock in our warehouse...
$264.95
The new Zippi Rabbit Run from Omlet provides a movable and secure exercise solution for your rabbits. It is an amazingly convenient way for you to provide your pet with a larger habitat that promotes an active and healthy lifestyle. This Zippi run is a secure and predator resistant enclosure that comes with both a mesh roof and underfloor mesh. It is fully compatible with and can be linked to the Zippi Tunnel system quickly and securely.
The Zippi Rabbit Run features a door in one of the panels for personal access and there is also a specially designed connection portal should you wish to join up your Zippi Rabbit Tunnel.
You can extend your Zippi Run over time by adding extra panels and a range of specially designed covers and shades for the Zippi Run are also available.
This Zippi Run configuration covers an area of 144cm x 96cm with a maximum height of 105cm.
Patent Pending. Design Registered.
Zippi Rabbit Run with Roof and Underfloor Mesh - Double Height
Sturdy, spacious and attractive
Omlet customer service were fantastic. I originally purchased the fence, which didn't work out. I then exchanged it and paid the difference towards the double height Zippi Rabbit Run. This product was easy to put together, looks neat and tidy in my back garden, and allows my chooks to safely enjoy some grass throughout the day. The product is clearly well made and its great to know I can extend it later on if I choose to. My only criticism (if I want to be picky) is that the gate could be more securely locked with something other than the drop down pins but I can always put a padlock on to stop small fingers letting the chooks out, if I need to. Very happy customer. Thank you Omlet.
Review for:
Zippi Rabbit Run with Roof and Underfloor Mesh - Double Height
This reviewer has 2-4 Australorps pets
Easy assembley and sturdy
Great outdoor play pen for rabbits that is secure
Review for:
Zippi Rabbit Run with Roof and Underfloor Mesh - Double Height
This reviewer has 2-4 Rabbits pets
Overall great but underfloor mesh is not suitable
On the whole I love this product. It was easy to construct, looks good and is a good size for our two mini lops. The add on tunnel is great so they can pop between their hutch and run easily and securely. The only problem I've encountered is that the underfloor mesh is too big. Within a few hours the rabbits had dug a hole and almost escaped. The underfloor mesh is larger then the mesh in the walls and roof of the run. Omlet customer service response was to use chicken mesh under the run to discourage the digging, but then what is the point of having underfloor mesh in the first place? I ended up purchasing some 50x50mm mesh from bunnings and replaced the underfloor mesh. Fixed the problem but at an extra cost. Overall I love the run but the underfloor mesh needs to be redesigned for 360 degree security for the rabbits.
Review for:
Zippi Rabbit Run with Roof and Underfloor Mesh - Double Height
This reviewer has 2-4 Mini lop pets
Read more reviews