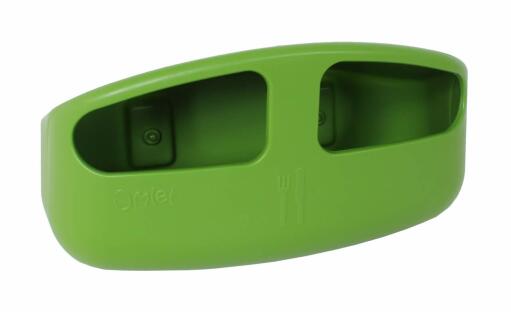 Checking stock in our warehouse...
$21.95
If you've expanded your flock, you can make sure there's plenty of delicious food for all your chickens everyone with the new Eglu Cube Feeder. The carefully sculpted overhanging front makes it easy for your chickens to eat, while keeping their food dry and protected from the droppings of wild birds.
Made of hygienic, easy to clean plastic, the New Eglu Cube Feeder attaches to your run with strong steel clips.
Also fits the Walk-In Run and Runs for the Eglu Cube Mk1, Eglu Go, Eglu Go UP and Eglu Classic.
The capacity of the Cube feeder is 2.7 litres when placed on a vertical run panel such as the Eglu Cube or Walk in Run, and 1.8 litres when placed on an angled run panel such as the Eglu Go.
Eglu Cube Mk2 Feeder Green
I bought this feeder recently but not yet installed. I am hoping it will be mouse-proof. My last chooks were killed by foxes so I'm still working or the area. Foxes, mice and wild birds are my main issues to try to prevent.
Review for:
Eglu Cube Mk2 Feeder Green
This reviewer has 2-4 It will be 2 chooks, pets
great feeder can be used for ducks too
this feeder is a good size and so far no rain has been able to get into it because of the brilliant design.its one of the very few feeders i can use that my ducks can eat out of.very happy with this product !!
Review for:
Eglu Cube Mk2 Feeder Green
This reviewer has 2-4 ancona ducks pets
Chooks like them. Limits spills, so keeps the pigeons away. Nice colour
Review for:
Eglu Cube Mk2 Feeder Green
Read more reviews