Outdoor Cat Run
Looking for a large outdoor cat enclosure for your pet? The Outdoor Cat Run is the perfect solution. Larger than many other outdoor cat pens available, this will give your cats the freedom to enjoy the great outdoors safely and securely. Perfect for owners of pedigree, indoor or poorly pussycats, this outdoor cat shelter has many fantastic features and it will blend into your garden beautifully.
This Walk in Cat Pen is perfect if you have an indoor cat. It is large and airy, not like the usual wood and wire cat pens that are usually on sale. My half Ragdoll cat loves his pen, it means he can be in the garden with us and watch all the wildlife and most importantly, be safe. - Anne
Buy Now

Could not load configurator. Refresh the page to try again.
Choose from two heights
The new Outdoor Cat Run is available in two heights. The Hi-Rise version allows you to literally walk in to spend more time with your cats. Your pet will be able to run and jump about and there is plenty of space for a bed, scratching post, litter tray, food and water bowl, and any other accessories you want to add. You could even set up a deck chair to sit back and relax with your pets. The Lo-Rise Version is a new concept, giving your cats plenty of secure floor space, at a lower height and a lower price (of course if you are less than 1.16m tall you can still walk in).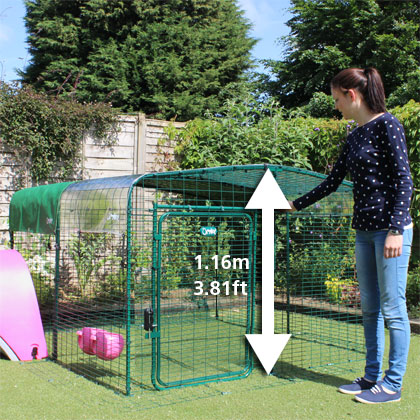 The new Lo-Rise Outdoor Cut Run is a great entry level product. It has all the floor space of the Hi-Rise version and you can extend the height at a later date.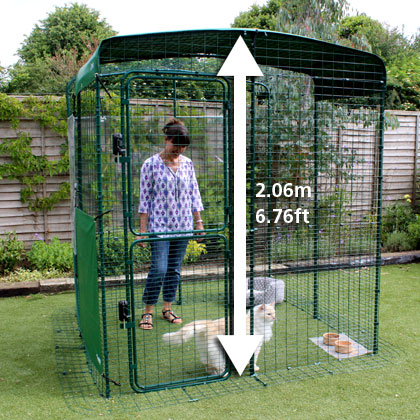 The Hi-Rise Walk In Cat Enclosure allows you to walk right in and spend time with your cats. They'll love all that extra room and you'll enjoy the benefits too.
Security
The Walk in Cat Enclosure offers the perfect combination of style and security for you, your cat and the native wildlife. A lot of people choose not to let their cats outside, for fear of them getting lost, injured or even stolen, but with this enclosure, they'll be able to enjoy the great outdoors without you having to worry. Your cats can enjoy the fresh air while not annoying the native wildlife!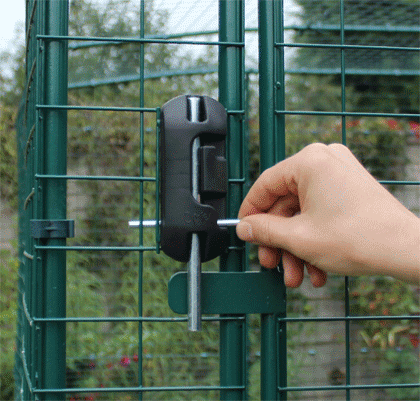 The brand new door lock uses gravity to drop naturally into the locked position, meaning you don't have to remember to slide the bolt back across as you do in a traditional lock.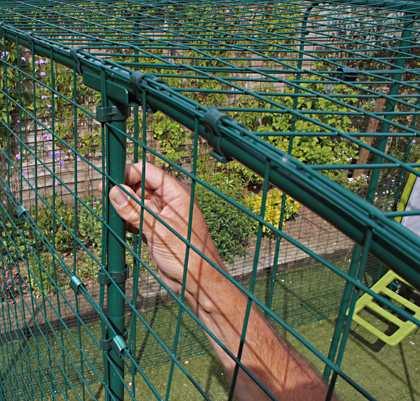 Made from the same heavy gauge steel weld mesh as the Eglu runs, and with strong supporting poles, this Walk In Cat Enclosure offers your pets maximum protection from unwanted visitors.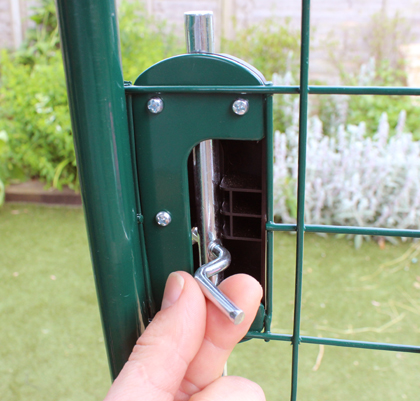 You can lock and unlock the door from inside the Walk In Cat Enclosure.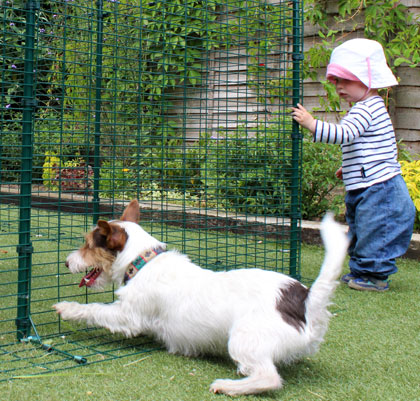 The Walk In Cat Enclosure has a detachable anti-tunnel skirt. Similar to the Eglu Run Skirt, this will prevent predators from digging in.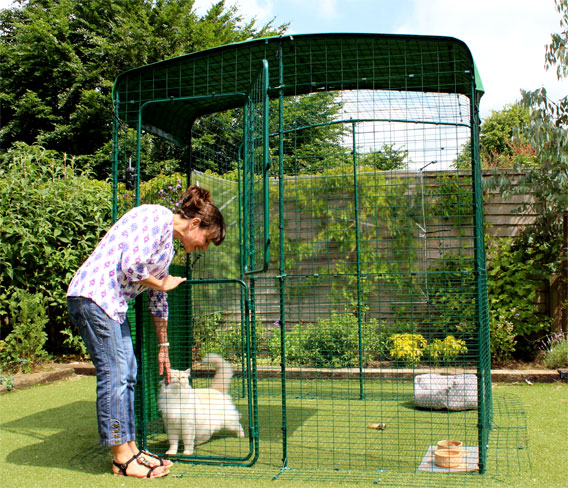 The full height stable door makes it easy to give your cats some treats without them escaping.
Stable door
If you opt for the Hi-Rise Walk In Cat Enclosure, you'll have the benefit of a stable style door. The top and bottom of the door open independently allowing you to throw in some toys or treats without your nimble-pawed pedigree nipping out between your legs. Extra doors can be purchased and added to the run in various positions too. The Lo-Rise Walk In Cat Enclosure still has a large door which is easy to reach through and ideal for topping up food and water quickly.
Extending your Walk In Cat Enclosure
The Walk in Cat Enclosure can be extended in numerous ways, whether you buy a large run straight away, or extend it over the years. Increase the width, length and height, using easy to add sections, and create a custom made run to suit your requirements. Please refer to the Walk In Cat Enclosure Configurator below for options on how to extend your run.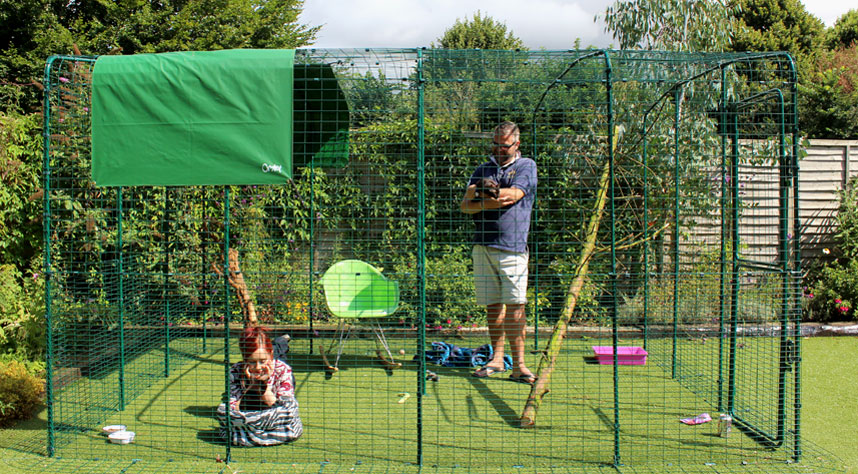 The 3 x 4 x 2 Walk In Cat Enclosure is perfect if you have more than two cats, or just to give your one cat a kingdom to rule.
Covers for your Walk In Cat Enclosure
Accessorise your Walk In Cat Enclosure with a Heavy Duty or Clear Cover in different sizes. These can be used independently or in multiples to create sheltered areas for your cats. Omlet covers are extremely hard-wearing and they will provide brilliant protection against wind, rain and snow. The clear covers are ideal for winter and the heavy duty covers provide lots of shade in the summer.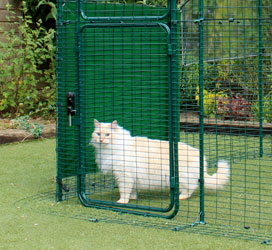 The Heavy Duty Side Cover will cover one panel.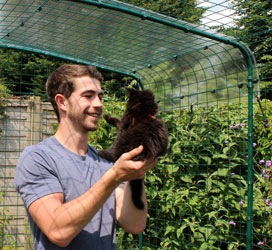 The Clear Roof Cover will cover two panels.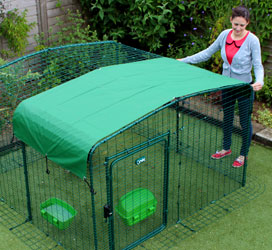 Omlet Covers are quick and easy to hook in position.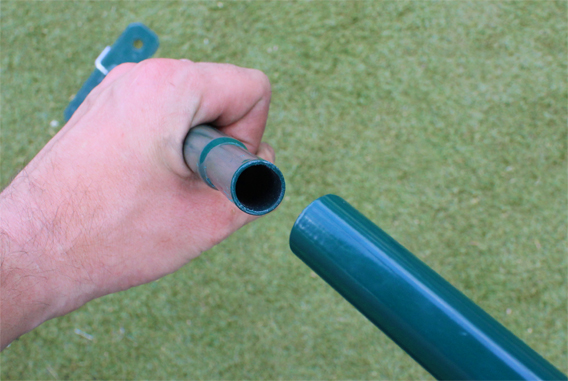 You can quickly make up the poles without any tools, they just slot together.
Easy assembly
Assembling your Walk In Cat Enclosure is quicker and easier than ever. You can assemble a Lo-Rise in around an hour and a Hi-Rise version should take you no more than one and a half hours to assemble, using the simple instructions included. The only tool you will need is a pozi (cross type) screwdriver, for the Door Bolt.
Compatible with Omlet products
The Walk In Cat Enclosure is compatible with our range of Eglus. You might already have a bed or cat house that you want to put inside the enclosure, but should you decide that your pets might like an Eglu to snuggle up in, you will have that option. Connection kits are available to attach the run to most types of Eglu, while other houses can be placed directly inside, giving your cats a place to rest, shelter and dream of mice. If your Walk in Cat Enclosure is 3 panels wide or more you can connect any Eglu apart from the Eglu Go UP no run, Eglu Cube no run and Eglu Go Hutch 1m run to the side with the door.
Your current Eglu
Can it connect to a Walk In Cat Run?
Can it go inside a Walk In Cat Run?
Can the door be placed on the same side as the Eglu? (applies to 2 panel wide run only)
Hi-Rise
Lo-Rise
Hi-Rise
Lo-Rise
Hi-Rise
Lo-Rise
Eglu Go (no run)
✓
✓
✓
✓
✓
✓
Eglu Go with Run
✓
✓
✓
✓

✗

✗

Eglu Classic (no run)
✓
✓
✓
✓
✓
✓
Eglu Classic with Run
✓
✓
✓
✓

✗

✗

Eglu Go UP (no run)

✗

✗

✓

✗

✗

✗

Eglu Go UP with Run
✓
✓

✓

✗

✓
✓
Eglu Cube (no run)

✗

✗

✓

✗

✗

✗

Eglu Cube with Run
✓
✓

✓

✗

✗

✗

Eglu Go Hutch (no run)
✓
✓
✓
✓
✓
✓
Eglu Go Hutch with 1m Run

✗

✗

✓
✓

✗

✗

Eglu Go Hutch with 2m Run
✓
✓
✓
✓

✗

✗

Related Products
Your Reviews - Outdoor Cat Run
---
Customer Images - Outdoor Cat Run - 29 of 51