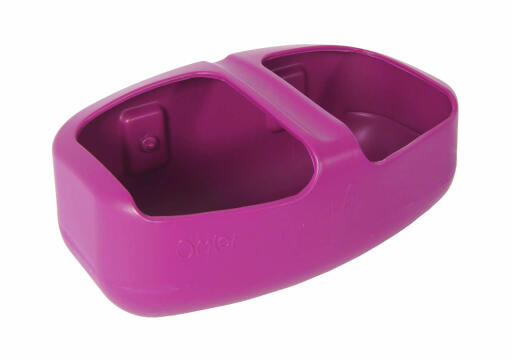 Checking stock in our warehouse...
$21.95
If you've expanded your flock, you can make sure there's plenty of water for everyone with the new Eglu Cube Drinker. The large openings make it easy for chickens with even the most extragant bouffaunt to take a refreshing drink, and even easier for you to refill. You can even refill the Drinker with a hosepipe through the run without having to reach inside.
Made of hygienic, easy to clean plastic, the New Eglu Cube Drinker attaches to your run with strong steel clips.
Also fits the Walk-In Run and Runs for the Eglu Cube Mk1, Eglu Go, Eglu Go UP and Eglu Classic.
The capacity of the Cube drinker is 4 litres when placed on a vertical run panel such as the Eglu Cube or Walk in Run, and 3.1 litres when placed on an angled run panel such as the Eglu go.
Eglu Cube Mk2 Drinker Purple
Very pretty and matches the house
A bit wobbly when carry it full of water
Review for:
Eglu Cube Mk2 Drinker Purple
This reviewer has 6-8 Various pets
Eglu Cube Mk2 Drinker Purple
Yep!! Purchased this feeder for my silkies. It does exactly what it is intended to do, holds water for them to drink. Pretty simple people. Let me tell you the best part about this drinker, it has a picture of a cup with a straw on the front of it. How good is that, I mean lets eliminate the confusion between the water and food container, no more confused chooks. Pure genius!! pure genius!!. Who was the savant who thought of that.
Review for:
Eglu Cube Mk2 Drinker Purple
Read more reviews