Pet Beds
Omlet Pet Beds are innovation meeting comfort. Dogs and cats alike will discover their dreamiest sleep ever on our variety of plush, durable and supportive creations. We are pet parents too, so we designed our pet beds with first hand knowledge of what you and your pet want most. Comfort, quality and ease of use are the key ingredients in making every Omlet pet bed. And since pets come in all shapes and sizes we designed our pet beds that way too.
---
Topology Dog Beds
Luxury dog bed with zip on toppers for hygiene and ease
From A$179.90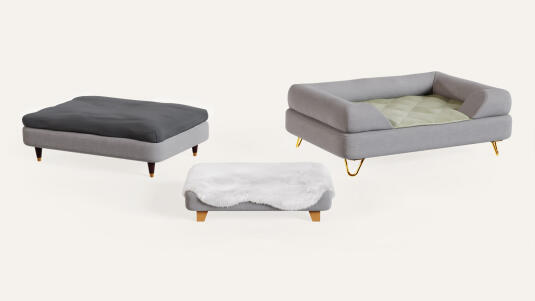 Bolster Dog Beds
Memory foam dog bed in a range of vibrant colours
From A$130.00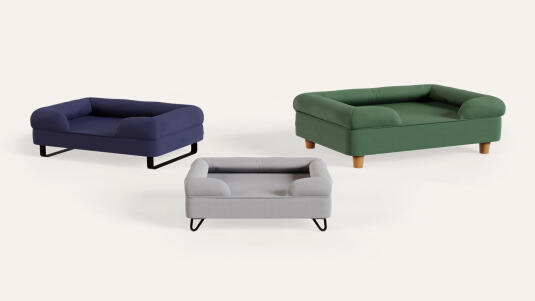 Donut Cat Beds
Super squishy faux fur cat bed with designer feet
From A$47.95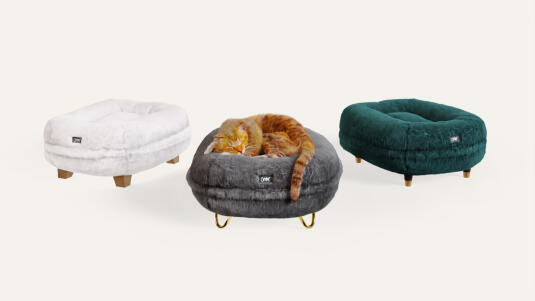 Bolster Cat Beds
Memory foam cat bed for support and style
From A$130.00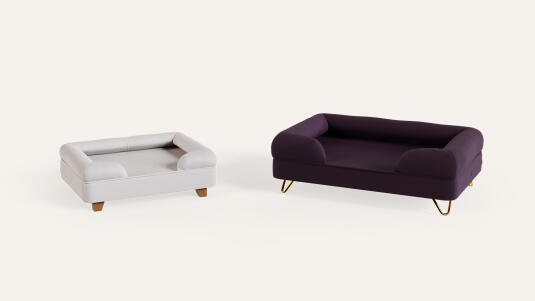 Perfecting the pet bed
When it comes to pets, one size doesn't fit all. At Omlet, we thought outside the animal box and designed a variety of bed options that would fit the variety of pets we all love. Surround your dog or cat with the snooziest support of snuggles on the
Bolster Dog Bed
or
Maya Donut Cat Bed
and deliver them the dreams they desire. Or customise their comfort with our premium selection of thoughtfully curated toppers on the
Topology Dog Beds
. Available in multiple sizes, fabrics, styles and designs, you are sure to find a bed that is personalised to your pet.
4 reasons your pet will love an Omlet bed
Ultimate comfort: Dogs and cats like to sleep - a lot. That's why we designed each of our cat and dog beds with memory foam mattresses and high quality materials to deliver the most comfortable sleep of their dreams.
Machine washable: At Omlet, our pet beds don't just serve the highest and best needs of your pets, they help serve you, as well! Designed with removable covers that are completely machine washable, you can easily clean away pesky dirt and odours. Simply zip off the cover and toss it in the washer for quick cleaning!
Durable designs: Quality sleep should last forever. And so should your pet's bed, so we curated our bed covers with durable materials to withstand the natural behaviors of any animal. Scratching, nesting and flopping around are all welcome on Omlet pet beds.
Completely custom: Give your pet a completely unique sleep experience with a bed that is custom made specifically for them. Choose from our wide range of fabrics, toppers, colors and designs to select the sleep style that best suits your pet. You can even elevate your pet's sleep and hygiene by adding Omlet's exclusive feet to raise the bed.
Create your pet's cosy quarters
When it comes to creating the perfect sleep solution for your pet, their bed is just one of the answers. Wrap your cat or dog in love by covering them with an extra layer of cosy with a
super soft pet blanket
. Creating your pet's cosiest quarters is easy to do with Omlet products.
Why you your pet needs an Omlet pet bed
At Omlet, we're pet people. And while we didn't invent the pet bed, we did create sleep solutions for your dog or cat that deliver better dreams. As ideators and designers, we thoughtfully engineered high-quality beds for your pet that are easy-to-clean for you. When it comes to comfort, we created unique and customisable options for any size pet in your family. We invite you to create the perfect pet bed for your furry family member.