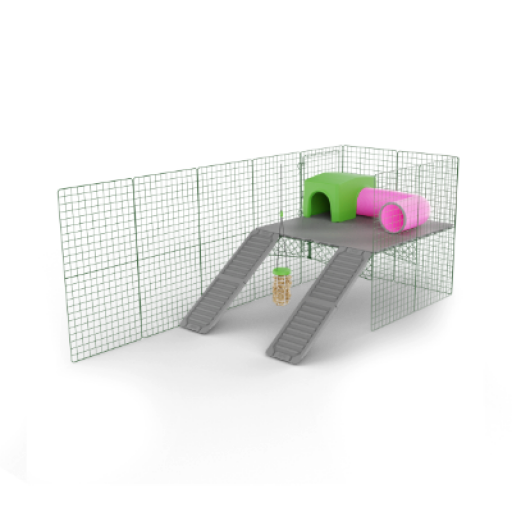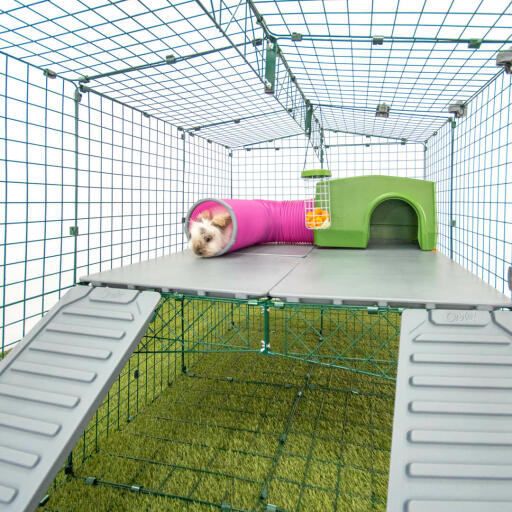 Zippi Rabbit Platforms - 4 panels with Green Shelter, Play Tunnel and Caddi Treat Holder
Checking stock in our warehouse...
$364.47
Give your rabbits more space
with Zippi Rabbit Platforms from Omlet. Designed to easily clip onto Zippi Runs, these strong platforms enrich your bunny's run with
new areas to explore
. Hopping up and down the ramp will strengthen your pet's muscles and by adding a Zippi Shelter and Caddi Treat Holder you can
stimulate more of their senses in new and exciting ways.
Adapt and expand your Zippi Rabbit Platform set up at any time to create new playgrounds for your rabbits to enjoy. The Zippi Rabbit Platforms - 4 panels pack includes four floor panels, which can fit to a Zippi Run Double Height which is two or four panels wide, and two ramps for your rabbits to climb up and down. It includes four support panels which are attached to the underside of the platform and the side of the run for additional stability. This bundle also includes a Zippi Shelter in Green, a Rabbit Play Tunnel with connector rings, and a Caddi Treat Holder.
Note: Allow two run panel lengths (96cm) for the rabbit to safely run down the ramp. Zippi Platforms should be fitted to a double height run for rabbits.
Find out more about Zippi Rabbit Platforms
here
.
Dimensions
Floor panel space: 96.8 x 96.8 cm Ramp: 84 x 24 cm Panel thickness: 2.5 cm
Zippi Rabbit Platforms - 4 panels with Green Shelter, Play Tunnel and Caddi Treat Holder